News
PALSCON Vows Continued Compliance To Labor Laws
March 07, 2018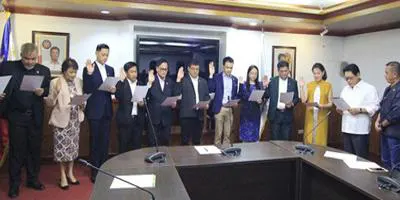 The Philippine Association of Legitimate Service Contractors (PALSCON) introduced recently its new set of officers and Board of Directors for the year 2018-2019.
The new set of officers carry with them a renewed hope and commitment that the service contracting industry will continue to be a beacon of hope and catalyst for change for the Philippine employment scene.
The induction of the new PALSCON officers and Board of Directors were led by no less than DOLE Secretary Silvestre Bello III, in simple ceremonies held at the conference hall of the Department of Labor and Employment (DOLE) headquarters in Intramuros, Manila.
Caliwara also thanked the past PALSCON presidents present during the induction for their unwavering commitment and support to the members and their unceasing belief in the leadership.
She likewise acknowledged the challenges the industry currently faces within the employment sector, even the fears that the industry is dwindling.
However, she expressed the belief that as long as what PALSCON is doing is for the benefit of the country and the Filipino workers, they have nothing to fear.
"What we can promise the country and the Filipino people is that PALSCON remains committed to full compliance to all labor laws and regulations. We will also continue to be a partner to all our principals, to provide them the necessary flexibility in doing their business, and to provide more quality job opportunities to many Filipinos," Caliwara emphasized during the induction.
After being sworn in, Caliwara declared that PALSCON continues and will always be ready to sit down and talk with the DOLE on how the association can help in providing decent jobs to as many Filipinos as possible.
She reiterated PALSCON's commitment as a partner of the DOLE and the government in helping implement programs.
"We hope and pray that the government and Filipinos will eventually see the importance of service contractors and be understood in what we are doing. We reiterate as well that PALSCON will remain to be a good partner in compliance with all laws and regulations, and will continue to provide the necessary protection in guaranteeing that all the rights of workers are met and provided."
"We are also thankful for the opportunities given to us by God to be stewards of His riches through our industry and our business to be able to help provide decent jobs," she added.
Reference: https://www.malaya.com.ph/business-news/business/palscon-vows-continued-compliance-labor-laws
Share this on