News
394th PALSCON General Membership Meeting May 23, 2022, Monday, 9am via Zoom
May 18, 2022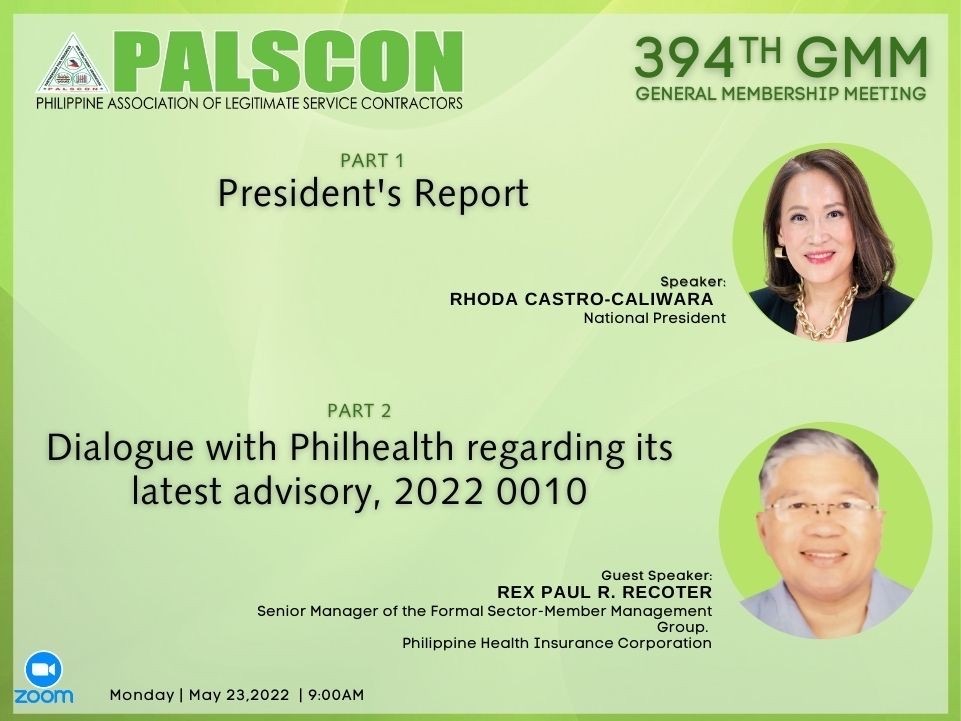 394th PALSCON General Membership Meeting
May 23, 2022, Monday , 9am via Zoom

GMM starts at 9 am

Presidents Report
by Ms. Rhoda Caliwara
National President
PALSCON


Topic: Dialogue with Philhealth regarding its latest advisory, 2022 0010


Guest Speakers:
REX PAUL R. RECOTER, Senior Manager of the Formal Sector-Member Management Group.


JENNIFER F. ENRIQUEZ-Division Chief & Head of the Employed Segment


REMEDIOS L. GABUYA-Segment Head, Direct Contributors Individuals

Registration Fees:
Members: Php 500.00 per Head
Non Members: Php 800.00 per head


BDO Savings Account No.
002180100449
Account Name: Philippine Association of Legitimate Service Contractors Inc.
Kindly send a copy of proof of payment to & billing.palscon@gmail.com
For Inquiries and registration, please contact our Secretariat Office at +639175394266, +639275818680, +639213714746


For Registration, please fill in this form: https://docs.google.com/forms/d/e/1FAIpQLSdNXQqgA9d0G5CssOS01NNtt-OcfhxfcoDqzvoCJw_x0awwOQ/viewform
Share this on