News
PALSCON Vows Strict Labor-Law Compliance
December 07, 2017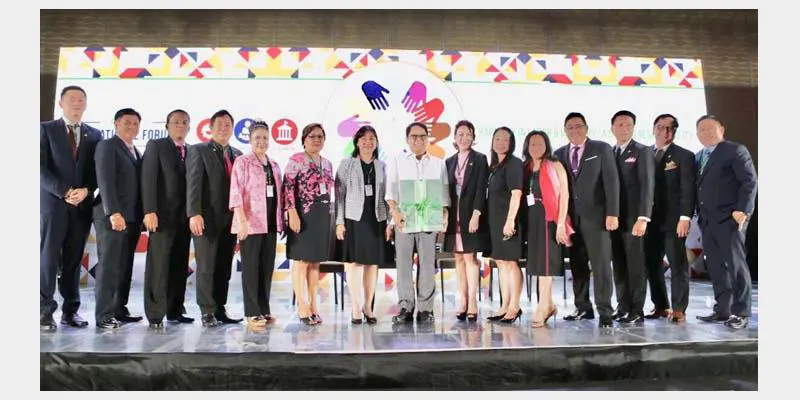 In Photo: Labor Secretary Silvestre H. Bello III (center) poses with Philippine Association of Legitimate Service Contractors (PALSCON) officials led by its President Rhoda Caliwara (seventh from right) during the seventh PALSCON National Forum held at the Crowne Plaza Manila Galleria, Ortigas Center, Quezon City. Bello delivered the keynote speech during the forum.
Last updated on December 7th, 2017 at 07:57 pm
Officials and members of the Philippine Association of Legitimate Service Contractors (PALSCON) recently gathered for the group's seventh National Forum and forged a firm commitment to end all forms of exploitative labor practices.
PALSCON National President Rhoda Caliwara said the group is committed to comply with labor laws and issuances to become an integral part of inclusive growth and nation building. She affirmed PALSCON's seven-point commitment, which was then presented to Labor Secretary Silvestre H. Bello III at the forum held at Crowne Plaza Manila Galleria, Ortigas Center, Quezon City.
PALSCON committed to ensure "full compliance to the laws and issuance to promote decent jobs and step up measures to professionalize labor contracting through training of employees."
"We commit to promote measures for the abolition of exploitative labor practice, "said Caliwara, who presented the seven-point commitment.
In his keynote address, Bello said service contractors are partners of the government in achieving inclusive growth because they help address the unemployment and underemployment problems in the country.
He noted that, while public sentiment is to ban contractual arrangements, the Department of Labor and Employment (DOLE) instead issued Department Order 174 that provided a lifeline for service contractors.
Forum guest speakers George Barcelon, Philippine Chamber of Commerce and Industry president, and Ambassador Donald Dee, chairman emeritus of the Employers' Confederation of the Philippines, spoke on behalf of the principals, and exhorted employers to unite amid an ever-changing labor market.
For her part, Debbie Centeno, the seventh National Forum's Committee chairman, hopes that the forum can "sow the seeds of harmony and agreement" in this "age of social media where everyone has a voice and a platform."
She hopes that the views of everyone, whether contrasting or similar, can come together and be synergized to work for the greater good of everyone. This is why the theme of the forum drives home "the need for harmony between the industry and its partners, which include the DOLE, principals, business owners and HR practitioners, with the end goal of safeguarding the welfare of the Filipino worker".
Henry Nuqui, PALSCON vice president, in turn, urged registered service contractors to join the national organization to be able to contribute to economic growth and nation building.
In his concluding remarks, Nuqui said one of the challenges is how to reach out to service contractors and help them meet government requirements and be able to police their own ranks.
"We commit to provide decent jobs to Filipinos through our collective and consistent efforts until the government recognizes our integral role in the nation's growth," Nuqui said.
To achieve this, Nuqui added PALSCON members and legitimate service contractors "must be agents of responsible service contracting."
Share this on