News
PALSCON 395th General Membership Meeting
July 25, 2022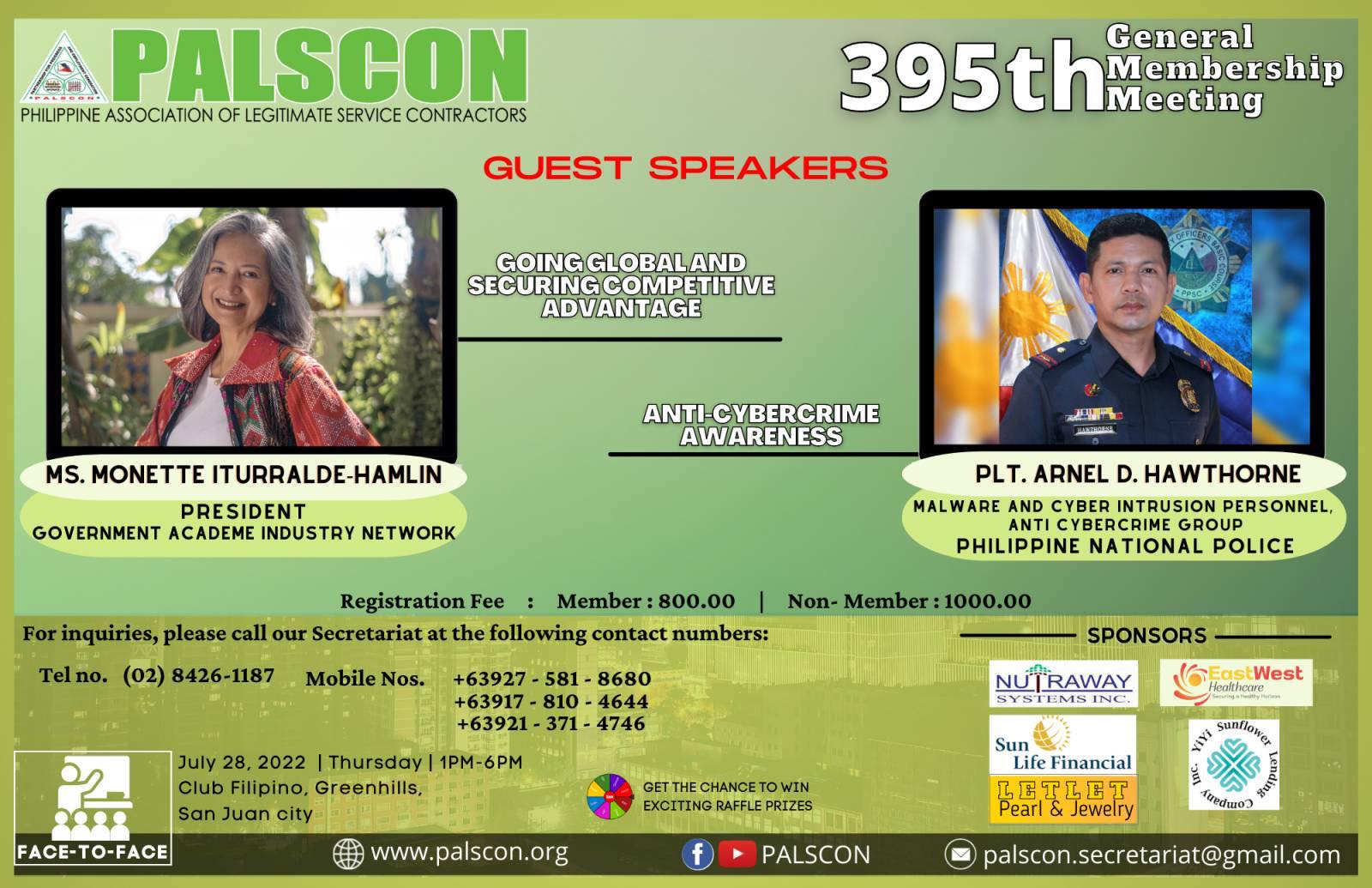 PALSCON 395th General Membership Meeting (FACE-TO-FACE)
July 28, 2022, Thursday, 1PM at Club Filipino, Greenhills, San Juan City.
Registration starts at 12:30PM.
Part 1- Going Global and Securing Competitive Advantage
Guest Speaker:
Ms. Monette Iturralde-Hamlin - President, Government Academe Industry Network, Inc. (GAIN)
Part 2 -Anti-Cybercrime Awareness
Guest Speaker:
PLT. Arnel D. Hawthorne - Malware and Cyber Intrusion Personnel, Anti-Cybercrime Group, Philippine National Police (PNP)
Registration Fee:
Member: Php 800.00 per head
Non-Member: Php 1000.00 per head
Bank Details:
BDO Savings Account No.
002180100449
Account Name: Philippine Association of Legitimate Service Contractors, Inc.
Kindly send a copy of proof of payment to billing.palscon@gmail.com & palscon.secretariat@gmail.com
For Registration, please fill in this form :
https://docs.google.com/forms/d/e/1FAIpQLSdzB9FBf19PU3nmakKzY2rTgxH7k9_114xbyt7COiXzWktvXg/viewform?vc=0&c=0&w=1&flr=0
For Inquiries, Please contact our Secretariat Office at +639275818680 , +639213714746 , +639178104644 .
Thank you and see you all!!
Share this on