News
Strong Gov't-Service Contractors Ties To Boost Employment: Bello
September 20, 2019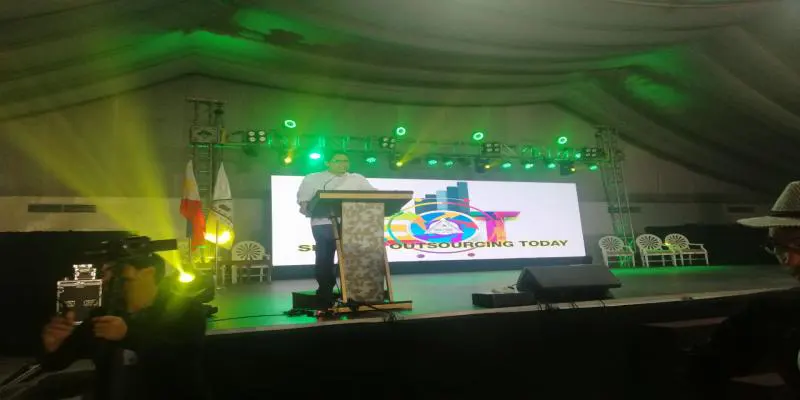 BOOSTING EMPLOYMENT. Labor Secretary Silvestre Bello III delivers his keynote speech at the Philippine Association of Legitimate Service Contractors, Inc. (PALSCON) 9th National Conference held at the Manila Hotel on Friday (Sept. 20, 2019). Bello assured that the partnership between the government and the private sector, particularly service contractors, will help provide jobs to Filipinos. (PNA photo by Ferdinand Patinio)
MANILA The Department of Labor and Employment (DOLE) on Friday assured that the partnership with the private sector, particularly service contractors, will continue to help provide jobs to Filipinos.
In his keynote speech at the Philippine Association of Legitimate Service Contractors, Inc. (PALSCON) 9th National Conference at the Manila Hotel, Labor Secretary Silvestre Bello III acknowledged the coordination between the government and the private companies in providing decent employment to jobseekers.
"Companies turn to outsourcing to cut labor cost and to enable them to focus on the core aspect of their business. When used properly, outsourcing of services is an effective strategy to reduce expenses, and provide a business with competitive advantage over its rivals," he said.
"Give this backdrop, service contracting is here to stay, PALSCON, therefore, will continue to be one of the government's partners in providing jobs to Filipino jobseekers. The partnership certainly will help reduce unemployment and contribute to national productivity and global competitiveness of its human capital," Bello added.
At the same time, Bello is convinced that the one-day event will be a venue for stakeholders to share ideas and best practices for their benefit.
"I am certain this forum is a source of knowledge, trends and data for PALSCON members, and provide a powerful network of associates to grow your connections, exchange ideas and share best practices needed to stay in the service industry," he said.
Last March, the labor department and PALSCON signed a memorandum of agreement to bring decent employment opportunities to Filipino jobseekers, as well as in facilitating employers' search for qualified manpower.
The partnership is focused on reaching more jobseekers nationwide and expanding access to labor market information, to further support DOLE's mandate of improving the local labor and employment situation in the country.
The group is headed by its national president Rhoda Castro-Caliwara.
PALSCON is an association of legitimate local service contractors primarily organized to further the cause of the government and labor sectors by providing employment via sub-contracting activities geared towards the upliftment of labor standards of the country. (PNA).
Share this on