News
401st General Membership Meeting held on July 25, 2023, 1:00 PM to 5:00 PM via Zoom Virtual Conference
July 27, 2023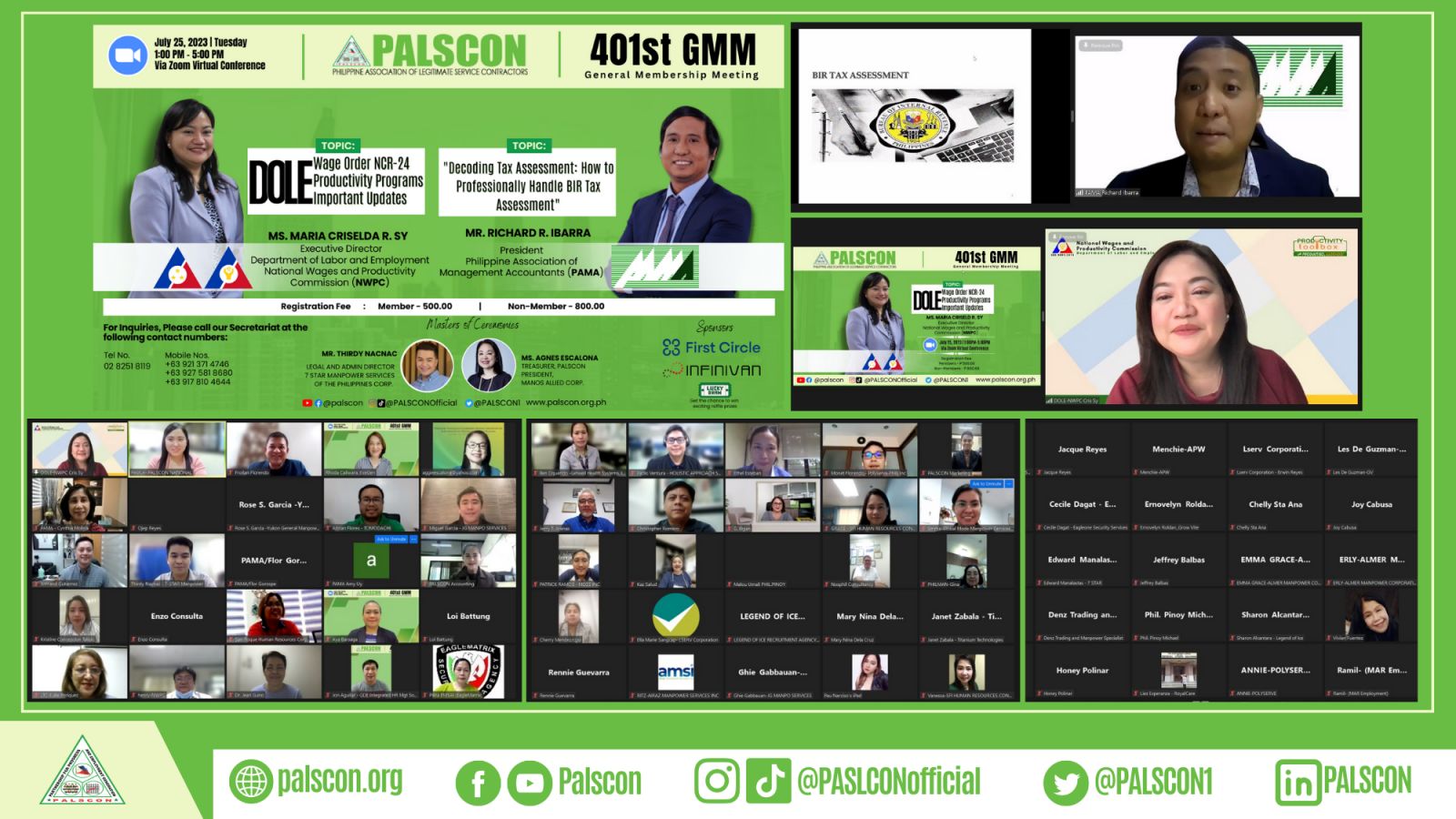 Despite the typhoon's challenge, PALSCON's 401st General Membership Meeting was a resounding success! ????✨ Our unwavering commitment to providing our members with comprehensive and fruitful gatherings prevailed as we gathered on July 25, 2023, from 1:00 PM to 5:00 PM via Zoom virtual conference.
Special thanks to Mr. Richard R. Ibarra, President of the Philippine Association of Management Accountants, and Ms. Maria Criselda R. Sy, Executive Director of the National Wages and Productivity Commission (NWPC), for generously sharing their invaluable knowledge and expertise with us.
A big shout-out to our wonderful hosts, Mr. Thirdy Nacnac and Ms. Agnes Escalona, for keeping the energy high and the discussions engaging throughout the event.
PALSCON is deeply grateful to all attendees for making this GMM a success despite the challenging weather conditions. Your dedication and enthusiasm are what make our community thrive!
Mark your calendars for the next GMM. We can't wait to see you all there! Until then, stay safe and stay inspired!
#PALSCON401GMM #StrongerTogetherhttps://www.tiktok.com/@palsconofficial
Visit our website: www.palscon.org
Follow our social media:
Facebook: https://www.facebook.com/palscon.ph/
Instagram: https://www.instagram.com/pa_lsconnational/
Tiktok: https://www.tiktok.com/@palsconofficial
Twitter: https://twitter.com/PALSCON1
Youtube channel: https://www.youtube.com/@palscon9553
Connect with us:
LinkedIn: https://www.linkedin.com/in/philippine-association-of-legitimate-service-contractors-inc-palscon-92a36
Share this on