News
10th National Conference November 12 To 13 2020 Via Zoom
October 25, 2020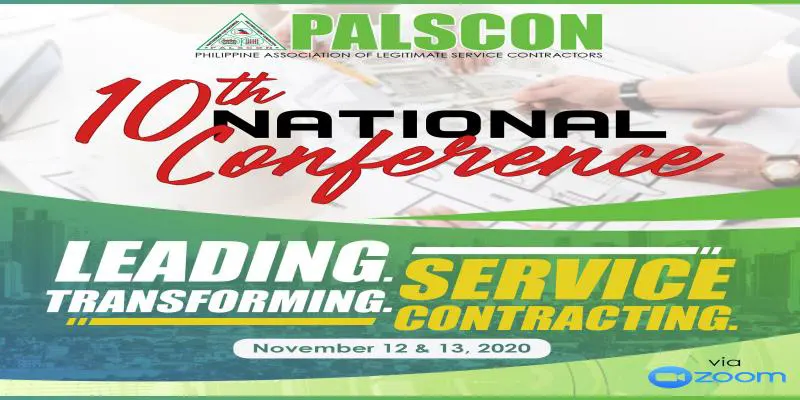 Day 1- November 12, 2020
INSPIRATIONAL MESSAGES FROM GUEST SPEAKERS AND VIPS

Her Excellency Maria Leonor G. Robredo- Vice President, Republic of the Philippines
Hon. Silvestre H. Bello III - Secretary, Department of Labor and Employment

PANEL DISCUSSION: LEADING SERVICE CONTRACTING TO A BETTER NORMAL

Moderator: Mr. RJ Ledesma Panelists:

Government Sector - USEC Benjo Benavidez
World Employment Confederation - Mr. Greg Chen
Business Sector - ECOP President Sergio Ortiz-Luis, Jr.
Philippine Service Contracting - Mr. Arturo "Butch" Guerrero

LEARNING SESSION: Visionary Leadership in Business and Service contracting business in a Pandemic Economy

Session Speaker: Ms.Vivian Fuentes- President, Global Mode Manpower Services
Reactor: Mr. Lorenzo Consulta - Vice President Romac Group of Companies (PALSCON Region 3)
Day 2- November 13, 2020
OPENING REMARKS FROM GUEST OF HONORS

Hon. Senator Joel Villanueva - Senator, Senate of the Philippines
Hon.Congressman Enrico Pineda - Chairman, Committee on Labor and Employment

PANEL DISCUSSION: TRANSFORMING SERVICE CONTRACTING ACROSS INDUSTRIES

Moderator: Mr. Freddie Marquez

HOSPITALITY AND TOURISM INDUSTRY: Mr. Arthur Lopez- President, Hotel Association of the Philippines
RETAIL INDUSTRY - TBA
SERVICE CONTRACTING/QUICK SERVICE RESTAURANT INDUSTRY: Atty. Giovanni Melgar -Chairman Melgar Brothers Holding Corporation

LEARNING SESSION: Strengthening Mental Health Wellness and Prevention of Covid Anxieties

Session Speaker: Ms.Ging Igual - Recalibrating Quality of Life: Creating Balance In Challenging Times
Reactor: Ms. Sarah Deloraya-Mateo - President, SP Deloraya Management Consultancy & Job Contracting Services / PALSCON National Past President / President PCCI-QC Chapter

CLOSING KEYNOTE: Atty. Josephus B. Jimenez - Former DOLE Undersecretary, Labor Arbiter, and Labor Attache to Malaysia, Taiwan, and Kuwait
Please join and support our annual event and together let's hope and be motivated as we overcome this crisis into a new horizon of opportunities.
A. Sponsorship Rates.
Co-Presentor: Php 30,000.00
Major Sponsor: Php 10,000.00
Minor Sponsor: Php 5,000.00 Donor Sponsor: Php2,000.00
B. Registration/ Enrollment of Attendees.
5pax free 2 pax
3pax free 1pax
Avail of our promo rates!
50% off; 500 pesos less than the Regular Rate of 1k
5 participants plus 2 participants free
Until Nov 5, 2020 only
C. Registration Fees.
Member – Php 1,000.00
Non-Member- Php 1,500.00
For more details Contact our Secretariat Office at +639275818680 and +639178104644 or Email us at nationalforum.palscon@gmail.com and palscon.secretariat@gmail.com.
Please deposit your payment to: BDO Savings Account No. 002180121748
Account Name: Philippine Association of Legitimate Service Contractors Inc.
For Pre-Registration, Please click the link below:
https://docs.google.com/forms/d/10O_oG5jcbGrxWuVNgfetPThNp5eZxsn8uKXOfnFH-30/edit
Note: Please use a different email for Additional Attendees. The link is exclusive for one email only.
For Payment, Please click the link below:
https://docs.google.com/forms/d/1KnPOwv2ZvdanYWNNgG4vxmJa2wTWAH8apk8OZBlmrgM/edit
Note: Kindly upload here a copy of your proof of Payment. We will send to you the zoom link through your registered email.
Share this on