News
South Luzon, Induction of 2022-23 Officers and Directors, February 11, 2022 via Zoom
February 12, 2022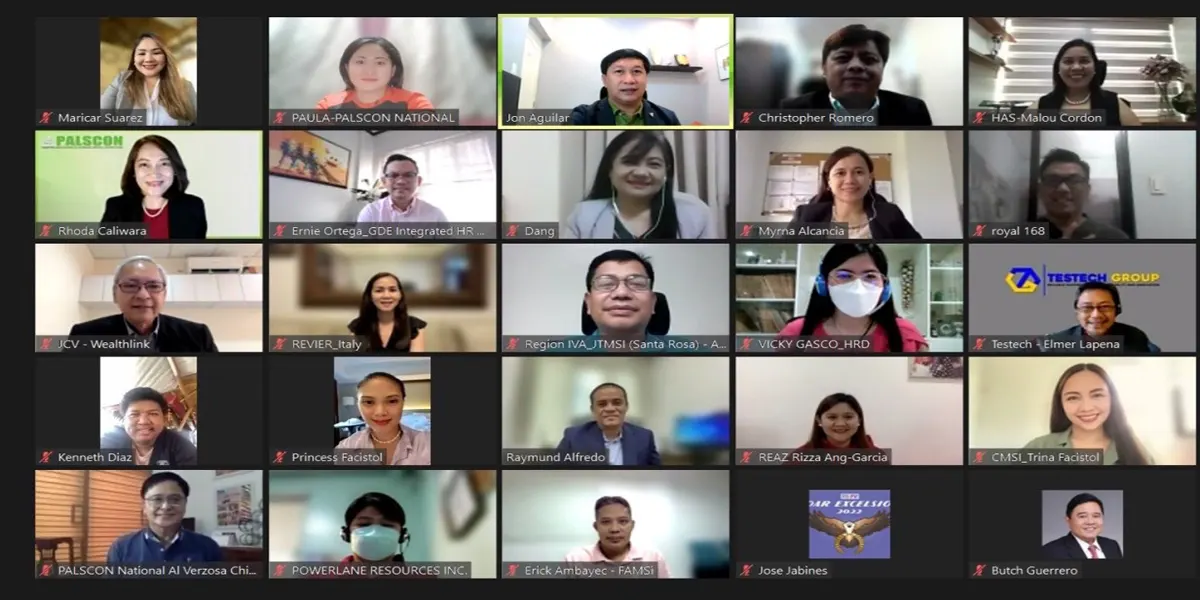 SG Reports
By: Al V. Chichioco
South Luzon, Induction of 2022-23 Officers and Directors, February 11, 2022 via Zoom
Congratulations to the newly elected officers of PALSCON South Luzon (Region 4).
President
Maricar S. Suarez
One Source General Solutions Inc.
Vice President
Christopher Romero
Omniworx,Inc.
Corp. Secretary
Ma. Rizza Garcia
REAZ Manpower and General Services, Inc.
Treasurer
Ernie Ortega
GDE Integrated Management Solutions,Inc
Auditor
Erlinda Amarante
AMA Manpower and General Services
PRO
Jose Randy Aguillo
Royal 168 Services Inc.
Board of Directors:
Myrna Alcancia
Career Power Professional Management Services,Inc.
Rovelyn Casiban
Efrata Management Solutions, Inc.
Marilou Cordon
Holistic Approach Systems Inc.
Rolando Dictado Jr.
Powerlane Resources Inc.
Italy Rose De Guzman
Revier Consultants and Staffing Resources,Inc.
Elmer Lapena
Testech, Inc
Joselito Villapena, Jr.
Wealthlink, Inc
Princess Facistol
Revier Management and Contracting Services, Inc.
Lorena Corpuz
Jeannie's Touch Manpower Solutions, Inc.
I nducting Officer was no less than PALSCON National President Rhoda Castro-Caliwara who also gave her Congratulatory message to the new Officers and Directors. " South Luzon (Region 4) has given its unwavering support to our association and the industry," Madam President said.
Outgoing President Rolando "Wowie" V. Dictado Jr. thanked everyone most especially former Reg4 President Ray J. Alfredo and Incoming Reg 4 President Maricar S. Suarez and assured his continued support having remained as a Board of Director.
"A New Beggining with a New Perspective" is how President Wowie sees this new team.
And as everyone excitedly awaited this portion, newly inducted South Luzon ( Region 4) President Maricar S. Suarez assured continuity of projects of the previous leadership and sustain its above par performance
Region 4 's "big brother" , former President Ray Alfredo, encouraged the new leadership to raise the bar of performance and "even surpass his leadership and of Sir Wowie's."
National Board of Director Jon Aguilar was the event's Master of Ceremonies and was true to form.
Fellowship followed right after wherein industry issues like regional wage rates, Agency Service Fees and Business Permits were the issues raised. Ma'am Malou , Sir Jojo Jabines and Sir Adrian took part in the discussion.
And to recap, President Rhoda encouraged everyone, officers and non-officers to join and be active especially in the newly formed committees.
Share this on