News
PALSCON INDUCTS NEW OFFICERS, VOWS CONTINUED COMPLIANCE TO LABOR LAWS
March 16, 2018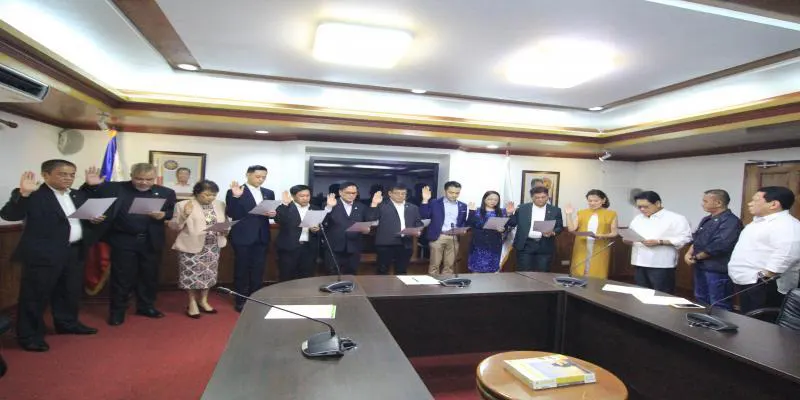 The new officers and board of directors of PALSCON (from left) Raymund Alfredo, Jerry Arenas, Lea Soriano, Armand Gutierrez Jr., Rodolfo Aguilar Jr., Alexander Chichioco, PALSCON PRO Froilan Florendo, PALSCON board secretary Jay Ar Sta. Ana, PALSCON.
The Philippine Association of Legitimate Service Contractors (PALSCON) recently held the induction of its new officers and board of directors for 20182019.
DOLE Secretary Silvestre Bello III led the oathtaking in simple ceremonies at the DOLE office in Intramuros, Manila.
After being sworn in, PALSCON president Rhoda Caliwara said that PALSCON continues and will always be ready to sit down and talk with the DOLE on how the association can help in providing decent jobs to as many Filipinos as possible. She reiterated PALSCON's commitment as a partner of the DOLE and the government in helping implement programs.
Caliwara also thanked the past PALSCON presidents present during the induction for their unwavering commitment and support to the members and their unceasing belief in the leadership. She expressed the belief that as long as what PALSCON is doing is for the benefit of the country and the Filipino workers, they have nothing to fear.
"What we can promise the country and the Filipino people is that PALSCON remains committed to full compliance to all labor laws and regulations. We will also continue to be a partner to all our principals, to provide them the necessary flexibility in doing their business, and to provide more quality job opportunities to many Filipinos," Caliwara emphasized.
For more info about PALSCON, visit www.palscon.org.
Share this on