News
Business Groups Push Against Abolition Of Service Contracting
April 26, 2018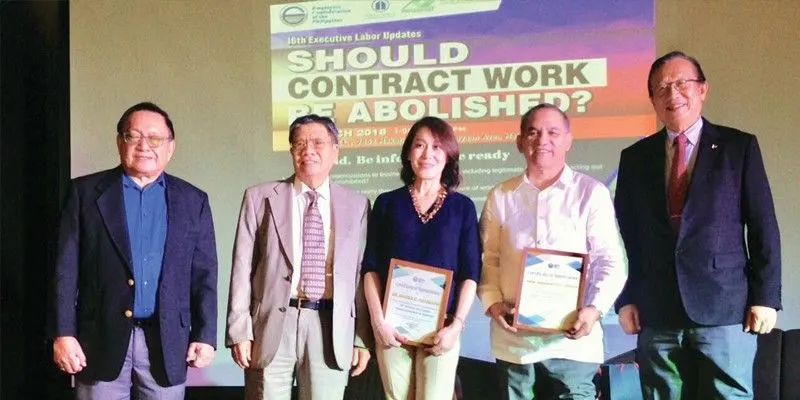 MANILA, Philippines — Large business groups have joined hands to strengthen their call against the abolition of service contracting in the country.
Groups such as the Employers Confederation of the Philippines (ECOP), Philippine Chamber of Commerce and Industry (PCCI), and Philippine Association of Legitimate Service Contractors (PALSCON) said abolishing contract work would result to "dire consequences" not only to employers and their businesses, but also to the national economy, the country's competitiveness, and to Filipino workers searching for decent and quality jobs.
ECOP president Donald Dee said laws and government policies should be flexible enough or else, potential investors would relocate to another country.
"ECOP is doing all it can to help improve on human resources and labor practices in the country and has invested so much to help change the mindset. We are an organization that will protect workers and we will work with our workers' welfare in mind because they are our assets," Dee said.
"ECOP is vehemently against this deplorable labor practice. That is why we applaud the current administration for making a successful termination of endo in fulfilment of the President's campaign promise. We also fully support the government's various labor issuances that spelled doom for endo," ECOP honorary president Rene Soriano added.
PCCI chairman George Barcelon, meanwhile, reiterated that service contracting is crucial in the development of any country, particularly of its exporters and micro, small and medium enterprises (MSMEs).
MSMEs account for 99.57 percent of the establishments in the country, helping provide 4,879,179 jobs as of 2016.
Barcelon fears that abolition of service contracting would make the Philippines lose its global competitiveness.
"We've been talking about globalization for the past decade. It's not just about the ASEAN economic community anymore. It's about being competitive globally," said Barcelon, who is also a member of the ASEAN Business Advisory Council.
PALSCON president Rhoda Caliwara, for her part, laments the continuing widespread misconception about the true nature and importance of service contracting.
She said abolishing service contracting would affect the national economy as the practice provides decent jobs to Filipino workers, particularly those unqualified to formal jobs that require higher education.
As such, Caliwara said maintaining the flexibility in business would ensure security of jobs, income, and prosperity for this generation and the next.
"If service contracting is abolished, we lose our competitive advantage against other countries that also allow subcontracting in their areas. We still believe that strict enforcement of laws and regulations is the answer, and abolishing service contracting will definitely contribute to more unemployment," Caliwara said.
Reference: https://www.philstar.com/business/2018/04/23/1808428/business-groups-push-against-abolition-service-contracting
Share this on