News
PALSCON National and Region 4A Joint General Membership Meeting (GMM) on June 27, 2022
June 21, 2022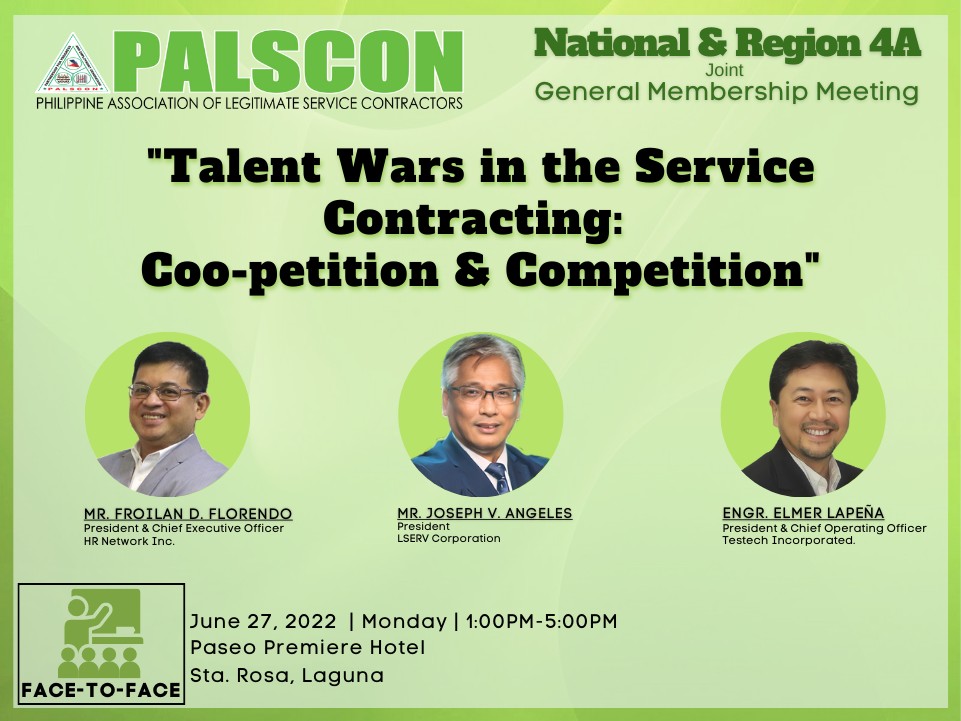 It is an undeniable fact that contractors are facing countless challenges in recruitment and hiring. Our goal is for members to learn best practices in talent acquisition from co-contractors and colleagues in the industry.
Join us at the PALSCON National and Region 4A Joint General Membership Meeting (GMM) on June 27, 2022, Monday, 1pm at Paseo Premiere Hotel, Sta. Rosa Laguna.
"Talent Wars in the Service Contracting; Coo-petition and Competition"
Guest Speakers :
1. Mr. Joseph Angeles -COO, LSERV Corp.
2. Engr. Elmer Lapena- President and COO , Testech Incorporated
3. Mr. Froilan Florendo- President and CEO , HR Network Inc.
Registration Fees:
Members- Php 750.00 per head
Non Members: Php 850.00 per head
Registration starts at 1PM.
See you all!
Share this on